Corporate Social Responsibility
Corporate Social Responsibility (CSR) at Southampton International Airport is about respecting and supporting people and communities and playing our part to minimise our impact on the environment. We believe we can make a positive long-term contribution to our employees, investors, business partners, the communities in which we operate and the global community.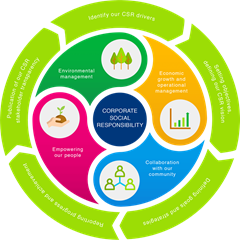 Every employee at Southampton International Airport Ltd is committed to our CSR strategy because being a responsible company is the right thing to do, but it is also right for us as a business. We are creating real value with high customer service levels for our customers, employees, and partners while striving for social and environmental good in the community in which we operate.
To view our corporate social responsibility document please click here.
Materiality Matrix
To ensure we have prioritised the right issues in our CSR strategy we conduct a formal materiality matrix review every three years. The items identified are those that are of most interest to our stakeholders and of highest importance to our business ensuring we have the correct shared priorities.
In order to ascertain what our materiality matrix would look like we asked both our internal and external stakeholders as well as the local community about what they thought were our most relevant priorities and where we should focus our efforts.
The issues are placed on a matrix that displays their position relative to the degree of stakeholder interest and current or potential business impact. The result demonstrates the material issues facing Southampton International Airport. The items identified through the materiality matrix should not be viewed in isolation; they are quite often interconnected and changes in one can lead to improvements in another.
SIAL Materiality Matrix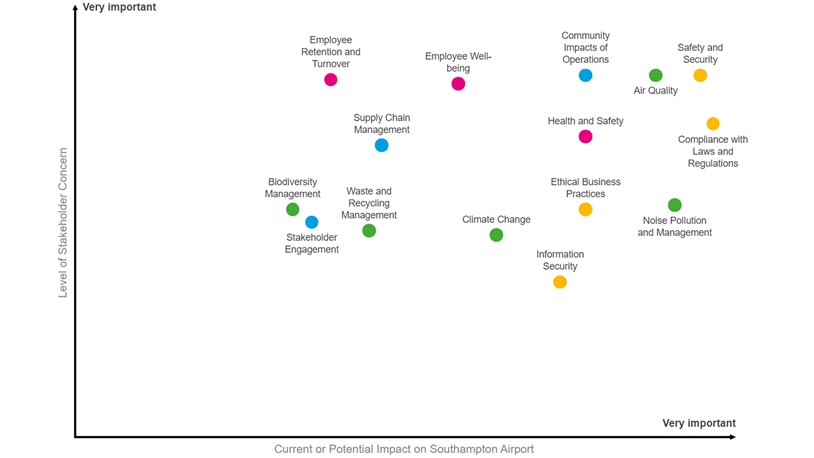 Environmental Management
Biodiversity Management: Control and manage our activities and development to ensure protection of the environment.
Waste and Recycling Management: We will minimise waste, promote recycling and eliminate landfill.
Climate Change: Pursue practices and technology that improves and/or reduces emissions from aircraft.
Noise Pollution and Management: We will limit and try to minimise the amount of noise generated.
Air Quality: Pursue practices and technology that improves and/or reduces emissions from aircraft.

Collaboration with our Community
Stakeholder Engagement: Engaging with our neighbours and surrounding councils by sharing information and working with them to help us develop and improve our policies and practices.
Supply Chain Management: Obtaining goods and services in a way that benefits the environment, the local economy and society.
Community Impacts of Operations: How the airport impacts the local community. The community will remain a key focus when reviewing or implementing changes.

Economic Growth and Operational Management
Information Security: We want our IT Systems and webpage to not only make our employees and customers' easier and simpler, but we want them to be able to use it knowing it's safe and secure.
Ethical Business Practices: Ensure high standards of integrity in all business relationships both inside and outside of Southampton International Airport.
Compliance with Laws and Regulations: Continuous monitoring of compliance with laws and regulations to ensure that remain compliant.
Safety and Security: We will provide a safe place for our customers to enjoy; delivering a high level service to our customers and building a world class approach to safety and security.

 Empowering our People
Employee Retention and Turnover: By investing in our people we can create an environment where they reach their full potential and we benefit from the full potential of their talent.
Employee Well-being: We will continuously look to engage colleagues, providing an environment within which they can improve their health and well-being.
Health and Safety: We will work with our employees to ensure that we create an environment where each member of staff goes home safe and injury free.