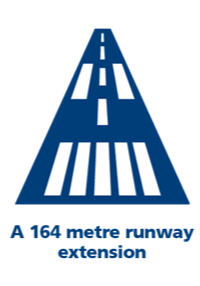 Background
In April 2021, Eastleigh Borough Council approved the airport's application for a 164-metre extension to the northern end of our runway. In August 2022, the Court of Appeal endorsed the democratic decision of the Council, allowing the runway scheme to move forwards.
The runway extension, which remains fully within our current boundaries, is absolutely critical to our viability as a regional airport.
The collapse of Flybe – which provided 89% of our passengers – placed the future of Southampton Airport in doubt. The airport's runway length is no longer suitable for today's modern airline fleets, so there is a pressing need to attract new airlines to the airport.
Public Support
Eastleigh Borough Council undertook four extensive public consultations, giving residents and businesses opportunities to have their say on the runway extension proposal. As an airport, we were greatly encouraged that a clear majority of respondents expressed their support for the runway extension. 60.1% of planning file comments had backed the plans by April 2021, including a majority of respondents from Eastleigh postcodes (SO50 and SO53).
We were also pleased to receive the overwhelming support of the local business community, notably from Hampshire Chamber of Commerce, Solent Local Enterprise Partnership, Business South, and the Eastleigh Business Improvement District (BID).
Community Commitments
Following extensive consultation, our plans now include a cap on growth to no more than 3 million passengers per year – though we would not expect to reach this figure until 2033. This cap will be enforced by new controls on noise and vehicle movements. As a result, our application gives Eastleigh Borough Council more control over the airport than it had before.
Additionally, our approved runway application also includes provision of an enhanced noise insulation scheme for homes and public buildings, that goes beyond the industry standard.
For further information, visit our Community Commitments tab.
Benefits
Viability
By extending the runway by just 164 metres, the approved application will make the airport economically viable for a wider range of carriers – guaranteeing our viability, safeguarding regional connectivity, and protecting thousands of jobs across the South linked to our operations.

A longer runway will allow us to attract new airlines and offer new routes, creating exciting opportunities for business and leisure, while contributing to the Central South's economic success.
Economic Growth
Approval of our runway extension unlocks a £17m investment into the airport, which we're confident will play an essential role in the region's post-pandemic recovery.
We estimate that the runway extension will generate an additional 2.8% of economic growth in the Solent LEP area by 2027.
Jobs
Jobs will be created once construction begins, with new employment opportunities opening up at the airport over the medium and longer-term as a result of the new runway.
Regional Connectivity
Regional connectivity is critical to economic success. A longer runway will allow us to offer new destinations, creating exciting opportunities for business and leisure.
Fewer Journeys to London
With a longer runway offering more destinations, thousands of passengers from our local area will be able to fly from Southampton instead of London airports, reducing carbon emissions and traffic on our roads.
Carbon Neutral
Southampton Airport is now Carbon Neutral, but we want to go further. Our runway proposals are accompanied by a bold plan to further reduce carbon emissions and embrace greener, more sustainable aviation.
For more information, visit our Carbon Neutrality and Sustainability tab.