Conditions of use
Conditions of use
The Conditions of use document details the terms and conditions that apply to flights operating at the airport. The document includes:
1. Definitions
2. Operational conditions
3. Payment terms
4. Data requirements
5. Schedule of fees and charges addressing matters such as:
Landing charges
Departing passenger charges
Air navigation service charges
Aircraft parking charges
Out of hours operations charges
Security/baggage charges
Passengers with reduced mobility (PRM) charges
Common user terminal equipment (CUTE) charges
New route incentives
Other rebates and charges.
Safeguarding
Drones
Drone Information
A drone (also known as an unmanned aerial vehicle or UAV) is any aircraft that can fly without a human on board. Interest in drone flying has grown considerably in recent years as technology has developed and drones have become increasingly available for civilian use. There have also been a number of high profile incidents in recent months where significant disruption has been caused to airports, caused by the threat to safety presented by drones.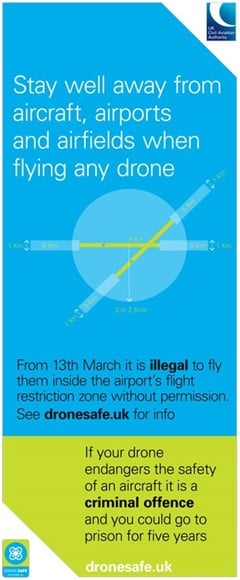 As of March 13, 2019, the drone flight restriction zone around airports and airfields changes. The government has introduced a new rule stating that the 1km restriction from the airfield boundary is replaced by a restriction using the airfield's existing aerodrome traffic zone, which has a radius of either two or two and a half nautical miles and then five kilometres by one kilometre zones starting from the point known as the 'threshold' at the end of the runway.


As of this date, it will be illegal to fly any drone at any time within these restricted zones unless you have permission from air traffic control at the airport or, if air traffic control is not operational, from the airport itself.
The Department for Transport and the Civil Aviation Authority have collaborated to create Dronesafe.uk which is designed to help ensure that drone users in the UK can easily access the information they need about how to fly their drones safely and legally, without endangering others. You can find a map of Southampton Airport Flight Restricted Zone and further information on the Drone Safe website here.
All drone operators requiring permission to operate within the Flight Restricted Zone are required to apply via the NATS Airspace User Portal and follow NATs Non Standard Flight application process found here: https://aup.nats.aero/
If you have any questions around the operating drones within the Flight Restricted Zone, please email sousafeguard@southamptonairport.com
Cranes
Applications for Crane Permit
As of 31st May 2021 companies and contractors who require to operate cranes and lifting equipment within 10 nautical mile of Southampton Airport Limited and at heights of more than 10 metres or that of surrounding structures or trees must in the first instance notify the CAA and complete the online Crane Notification Form (DAP1924). The CAA will then notify the airport. We will check whether the crane falls within our area for safeguarding and if it does, carry out an assessment. In some circumstances, a more detailed assessment will be required and could extend the time taken to grant a permit. A charge will be required in this case, the cost of which will be determined on a case by case basis.
The CAA recommends initial contact using the notification at least eight weeks before the erection of the crane.
The CAA also recognises that there are times when very little notice is given to the crane user therefore additional notification timescales have been created as follows:
1.PLANNED LONG-TERM PROJECTS: Notification to be sent to the CAA at least eight weeks (40 working days) before the erection of the crane. The CAA will then identify parties that may be affected by the crane and inform the crane user and affected parties about the next steps.
2.AD-HOC PROJECTS: Notification to be sent to the CAA not later than 5 working days in advance. The CAA will then identify parties that may be affected by the crane and inform the crane user and the affected parties about the next steps.
3.UNFORESEEN AND URGENT PROJECTS: If there is an unforeseen and urgent requirement to erect a crane within 5 working days from the notification, the crane user is required to contact Southampton Airport by completing a crane permit application form and emailing it to SOUSAFEGUARD@SOUTHAMPTONAIRPORT.COM. The CAA Crane Notification Form (DAP1924) form must then be completed and submitted to the CAA as soon as possible and advise that Southampton Airport has been contacted and the reason for less than 5 working days' notice.
2020 Permit Charges
Standard Crane Permit - £170                     
Crane Permit (within 48 hours) - £280
Crane Permit (within 24 hours) - £390              
Site Wide Crane Permit (More than 2 locations) - POA                        
Extension - £60
Other safeguarding services POA. All prices exl VAT.
Note if the crane is operating further than the 6km range of Southampton Airport, the notification form should still be submitted to the CAA, who will process such notifications at the earliest opportunity.
Please be aware any crane erected without a positive response received from the CAA or Southampton Airport may be considered a hazard to air navigation and such a crane operates at the crane user's risk of endangering the safety of an aircraft.
Procurement
Procurement
At Southampton Airport, our procurement team works with suppliers to deliver maximum value in the procurement of all goods and services, while ensuring that the highest possible standards are maintained.
Our Procurement Policy
Southampton Airport adopts a clear, concise and fair contracting policy.
Standard PO terms and conditions.
Revised 12 March 2021
Contact Procurement
For supplier enquiries, please contact:
Procurement Department
Glasgow Airport
Erskine Court
St Andrew's Drive
Paisley
PA3 2SW
Airlines
Airlines
We're always ready to welcome new and existing carriers, tour operators and bookers, and are committed to helping them succeed.
Advertising at the airport
Advertising at the airport
Global are one of the leading Outdoor Media Owners in the UK with more than 35,300 sites nationwide covering over 95% of the UK population. They offer a number of varied and eye-catching advertising formats in Southampton Airport, ideal for communicating with the high-value business or leisure passenger.

Company: Global
Contact: Liz Lightning-Toon
Email: liz.lightningtoon@global.com
Phone: 07733 001780
Affiliate Programme
Affiliate Programme
The Southampton Airport affiliate programme is managed by Affiliate Future.
Join the Southampton Airport affiliate programme and monetise your website traffic by referring sales to Southampton Airport.
Who is Southampton Airport?
Southampton Airport is owned by AGS Airports Limited and offers flights to around 45 destinations across Europe with excellent worldwide connections through a number of European hubs.
Operating hours: 24 hours a day, 364 days a year (closed Christmas Day)
Opened: 1910
Runways: One (1723m long)
Terminals: One
Airlines: 7
Destinations: Around 45
Passengers per year: around 2 million
Will my website be accepted?
At Southampton Airport we wish to partner with publishers from all backgrounds however, we are especially keen to hear from you if you have any of the following types of websites:
Generic travel sites
Location-specific sites (e.g. within the catchment area of Southampton Airport)
Demographic specific sites (e.g. students, over 60's, jobs in education)
Destination-specific sites (e.g. those destinations Southampton Airport fly to)
Lifestyle specific sites (e.g. beach holidays, skiing, golf, diving)
What linking methods are available?
A standard suite of brand creative is available to support our products.
How do I join?
Contact details

Please get in touch if you have any questions regarding the Southampton Airport affiliate programme.
Luke Shipway
Affiliate Future
+44 (0)20 7936 6791
Commercial Telecoms
Commercial Telecoms
We own a state-of-the-art telecommunications infrastructure, based on future-proof technology, that forms the basis of our service portfolio and on which we currently provide the following services:
Telephony - telephones, fax and PDQ connectivity
Managed LAN services
Wireless LAN
Fibre cabling
Flight Information Display Screens (FIDS)
Staff Information Systems (SIS)
CCTV
IPTV - television connectivity
For further information, please contact: IT.commercial@agsairports.co.uk
Suppliers