At World Duty Free everyone can take advantage of fantastic savings compared to high street prices on a wide range of products. Treat yourself to the latest season's fragrance, a designer handbag or a new pair of sunglasses. There are also great promotions on a range of whiskies, spirits, champagnes and wines.
A fantastic selection of products from cosmetics to confectionery, fragrances to fashion accessories, spirits to souvenirs, skincare to sunglasses, fine foods to fine wines, and champagne to cigars and tobacco. World Duty Free, located immediately after security control, is the place to buy any of thousands of items at great savings against UK high street prices. Too much to carry? Use our shopping collection service and leave it with us, then pick it up when you return.
Whether you are looking for the latest fragrance or something a little bit special we have the perfect treat for you or gift for someone else.
Prefer to do your shopping in advance?  Use our Reserve and Collect service
If you don't want to carry your shopping with you, you can use our free shop and collect service which is available to all passengers flying within the EU.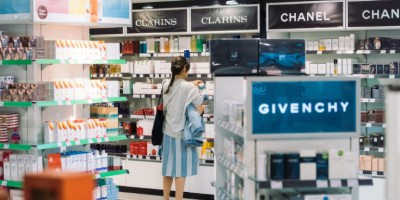 Returns Process
If you are not happy with the item you have purchased our returns offer means you can send the item back to us, as long as its returned within 60 days from the date of purchase.
If the items are in the same, unused condition as sold, you can return them to us within 60 days from the date of purchase, with a copy of your proof of purchase to either exchange it for another item (stock dependant) or receive a full refund. You can download and print off our returns form from our website. This also has the address to send the item back to.
If something has gone wrong with your purchase;
If the item has developed a manufacturing fault, we are able to offer a full refund, a replacement (stock dependant) or an exchange for another item (stock dependant) within one year of the date of purchase as long as you can provide a copy of your proof of purchase.
Again, you can find a returns form on our website under returns and refunds at the bottom of the homepage.
For items that have a maufacturing fault, the postage costs will be refunded.