Carbon Reduction Management
At Southampton International Airport we are committed to reducing our carbon footprint. Every year we work with an independent organisation to produce a carbon footprint report which we are happy to share. You can find it here.
We actively work to reduce our impact on climate change by continuously looking for ways that can further reduce our greenhouse gas (GHG) emissions throughout our processes. We work with our business partners across site to ensure that together we work effectively to reduce emissions. As a result of these actions, and our Carbon Management Plan, we have achieved Airport Carbon Accreditation Level 2. We are in the process of applying for Level 3+, the highest level achievable.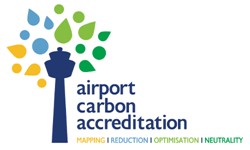 We are Carbon Neutral according to the British Standard Institute's PAS 2060 accreditation. You can find a copy of our Qualifying Explanatory Statement here.
Southampton Airport is a member of Southampton City Council's Green City Charter which means we are actively working in partnership to achieve shared aims.
Through a number of initiatives including Sustainable Aviation, the Airport is working to collectively address the climate change challenge posed by aviation.
For more information, please read our Carbon Neutral newsletter.
Click here to enlarge image.