Shop & Collect
Buy before you fly and pick up on your return
Like pre-flight shopping but hate struggling with the extra bags? With Shop & Collect you don't have to: just buy before you fly, then pick up your purchases on your return.
Shop & Collect is a free service, available when you are flying to the EU (including flights within the UK). We will store your goods securely whilst you are away and insure them. Upon your return to the airport, they will be ready and waiting for you at a convenient collection point, before you have claimed your luggage and cleared customs.
How to use the service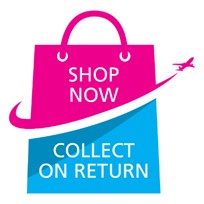 To use the service, simply tell the assistant in-store that you would like to Shop & Collect, give them your details and they will take care of the rest for you. And don't feel you have to stop after the first shop - this convenient service means you can shop in all stores and still not have to carry anything.
Shop & Collect is perfect if you plan to buy fragile or heavy items, but it also lets you take advantage of time-limited special offers. In addition, it's a great way to get around the current restrictions on carrying liquids on your return flight.
So why not go for that extra fragrance, large cuddly toy or a bottle of brandy?