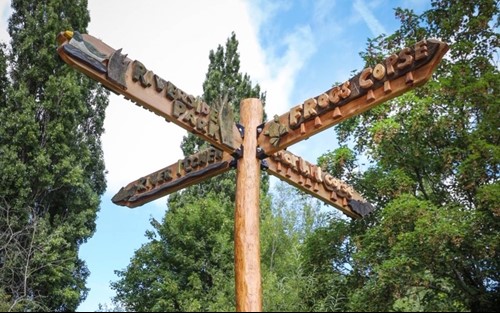 A beautiful new hand-carved signpost and seat has been installed at Marlhill Copse as part of an ongoing programme of work to enhance the woodland.
The signpost was carved by Braishfield-based craftsman Andy Frost and his team of wood sculptors.
The seated area is made from opepe wood, with the signpost itself is carved from robinia.  These types of wood were chosen specifically because they are extremely resilient hard woods ideal for sculpting outdoor installations.
The new signpost was opened to the public last Monday (July 13) but sadly has been subject to two separate graffiti attacks in the few days since.
A spokesperson for Southampton Airport said: "We are delighted to be able to provide such a beautiful piece of woodland furniture for the benefit of the community, and this is just one of many new features to come.
"The graffiti on the seat was anti-airport in content. It is deeply saddening that something provided for the use and enjoyment of local residents has been subject to two acts of vandalism already.
"We uphold and support the right to peaceful protest.  But this is thoughtless vandalism; it does not harm the airport at all, but it does hurt the local community."
An airport-led consultation on the Woodland Management Plan, which sets out plans for the management of Marlhill Copse over the next ten years, has now closed.  The plan will be submitted to Southampton City Council and the Forestry Commission for review shortly.
A spokesperson said: "We are really grateful to all who took the time to read the Woodland Management Plan and comment during the consultation.  Our mission is to create a beautiful, safe, bio-diverse woodland for all in the community to enjoy and we have had some fantastic feedback."
Further features for the education and enjoyment of the local community will be added throughout the summer, including information display boards which provide detailed insight into the history of the copse and the species of plant and wildlife that live within it.
Work is also underway in partnership with the SO18 Big Local group, and the residents of Townhill Park, to extend SO18's Mosaic Way through the copse, with the installation of mosaics alongside the info-boards.
More details to follow in coming months as this work progresses.