Today marks the launch of Mental Health Awareness Week, the UK's national week to raise awareness of mental health.  
Glasgow Airport and the wider AGS Airports Ltd group is supporting the week, which is hosted by the Mental Health Foundation and is now in its 21st year.
This year, the theme for the week is 'Nature'. Across the country, people will be celebrating the mental health benefits of being around nature in their local community in a range of digital and creative ways.
AGS Airports Ltd has introduced a number of initiatives to ensure staff have not felt isolated during the pandemic. These included bi-weekly broadcast updates from the Group's CEO, Q&A sessions and a newsletter published three-days per week which included everything from COVID-19 and business updates to information on staff benefits and support schemes.
Derek Provan, chief executive of AGS Airports, which owns Aberdeen, Glasgow and Southampton airports, said: "The mental health and well-being of our people has always been a primary focus for us, but none more so than during the last 14 months when we have all faced unprecedented challenges due to the COVID-19 pandemic.
"With many of our staff working from home or on furlough, it was important that we made sure they not only continued to feel connected to the Group, but also to each other. It was particularly important given the uncertainty the aviation industry continues to face that we put in place a series of support measures so staff could access the support they needed."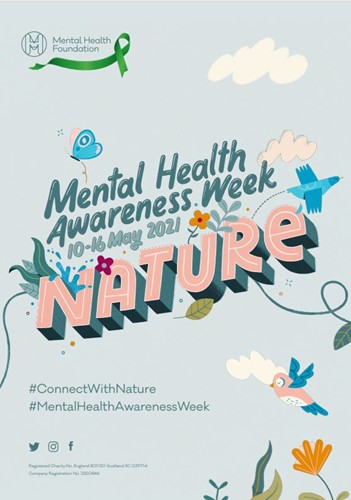 AGS Group also conducted staff surveys in several areas such as wellbeing and future agile working needs.
Remote learning programmes were introduced to ensure our people felt engaged and could keep their skills up to date, while experts were also brought in to lead physical and mental wellbeing workshops which proved popular with staff.
AGS staff could also access a free and confidential 24-hour Employee Assistance Programme and gain occupational health support including podiatry and physiotherapy.
This commitment has seen AGS Airports Ltd receive recognition from several national and international health and safety bodies including the British Safety Council and NHS Healthy Working Lives.
Mark Rowland Chief Executive of the Mental Health Foundation said: "Mental Health Awareness Week has grown to be one of the biggest awareness weeks in the UK. This year the theme is on nature and its central role for our mental health.  Since the beginning of the pandemic, millions of us turned to nature to help us get through lockdowns and our research shows that good mental health depends on us being able to connect with nature in some way and its power in both prevention of and recovery from poor mental health.
"During the week, we want to hear millions of people's stories about how the natural world has supported their mental health.
"We also want to highlight the huge disparities between who is and who isn't able to access nature. We want the week to explore how everyone across the UK can connect with nature and experience the mental health benefits wherever they live."
Some of the ways people can participate in Mental Health Awareness Week:
During Mental Health Awareness Week, why not try to make a habit each day of connecting to the nature in your local area? Stop to listen to the birdsong, smell the freshly cut grass, take care of a house plant, notice any trees, flowers or animals nearby. Take a moment to appreciate these connections.
Share images/videos/or just sound recordings of the nature on your doorstep (and how this made you feel) on social media using #ConnectWithNature and #MentalHealthAwarenessWeek
Use Mental Health Foundation resources in your family, school, workplace and community to join with thousands of people who will be finding new ways to connect with nature in their local environment.
For more information about this year's Mental Health Awareness Week click here.