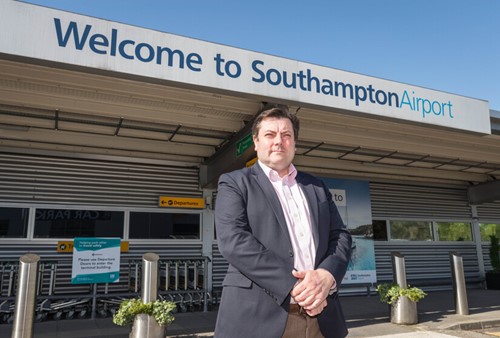 Steve Szalay, Operations Director of Southampton Airport, has announced he is to step down from his role at the end of the summer.
Steve joined Southampton in June 2020 having previously been Managing Director at Aberdeen International Airport which is also part of the AGS group. Over the course of the past three years Steve, while steering Southampton through the pandemic, also led the airport's extensive consultation to secure support for its runway extension.
In April 2021, Eastleigh Borough Council approved the airport's application for a 164-metre extension to the northern end of its runway. In August 2022, the Court of Appeal endorsed the decision of the Council and construction work is now underway.
Mark Johnston, Chief Operations Officer at AGS Airports, said: "On behalf of AGS, I would like to thank Steve for his unwavering commitment to Southampton Airport. He joined at what was a challenging time for the wider aviation industry, however, under his leadership the team ensured the airport emerged in a much stronger position. He can be proud of all he has achieved during his time at Southampton and I wish him every success."
Steve Szalay added: "It has been an absolute privilege to have led such a dedicated group of people, all of whom have worked tirelessly to bring success to Southampton Airport. This commitment to serving our passengers came to the fore during the pandemic when we kept the airport open to support lifeline services to the Channel Islands which is something I will always be proud of.  
"In speaking with our local communities, business groups and elected representatives, I know just how valued the airport is due to the important role it plays in supporting employment and providing the connectivity that underpins the wider regional economy. The completion of the runway extension later this year will mark a new chapter in the airport's long history and I leave knowing it has an exciting future ahead."
Mark Beveridge who is currently the Operations Director at Aberdeen International Airport, will assume additional responsibilities by taking on the role of interim Operations Director for Southampton following Steve's departure.