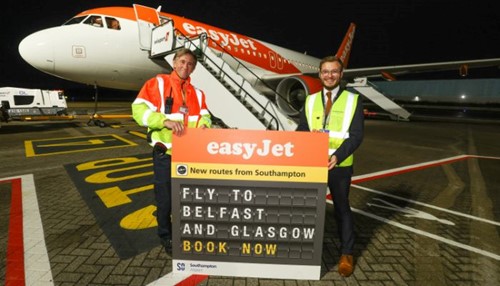 New easyJet flights from Southampton Airport to Belfast International took off on Sunday for the first time and were followed by new flights to Glasgow which took off on Thursday afternoon
The service to Belfast is now operating three times a week and to Glasgow twice a week throughout the year
Seats are available to book for this winter at easyJet.com and via the mobile app with great value fares starting from £22.50*
easyJet, Europe's leading airline, has this week launched the first flights on two new year-round routes from Southampton Airport. Flights to Belfast International and to Glasgow took off this week for the first time, providing customers in the South West of England with even greater connectivity to key hubs in Northern Ireland and Scotland, for leisure and business travellers alike.
The first flight from Southampton to Belfast international took off for the first time on Sunday 29 October and is now departing up to three times a week on Mondays, Fridays and Sundays. The new route to Glasgow took off from Southampton on Thursday 2 November and will operate twice weekly on Thursdays and Saturdays.
Both new routes are year-round and will provide stronger domestic connectivity from the South West to these key cities across the UK whether customers are looking for a city break, a convenient business connection or to explore Northern Ireland and Scotland.
Great value seats are available to book from £22.50* on easyJet.com
Ali Gayward, easyJet's UK Country Manager, said: "We are delighted to have launched our new services from Southampton to Belfast International and Glasgow, which will provide our customers in the South of England with direct and convenient departures to Northern Ireland and Scotland, making it easier for people to visit more of the fantastic destinations the UK has to offer for leisure or business."
Mark Beveridge, Operations Director at Southampton Airport, said: "We are really pleased to welcome easyJet's first services to Glasgow and Belfast International. 
"Following the recent completion of the runway extension, we are working hard and speaking regularly with our airline partners to deliver the routes and services the people of Southampton and the wider region deserve."
For more information on easyJet's network from Southampton, visit easyJet.com.