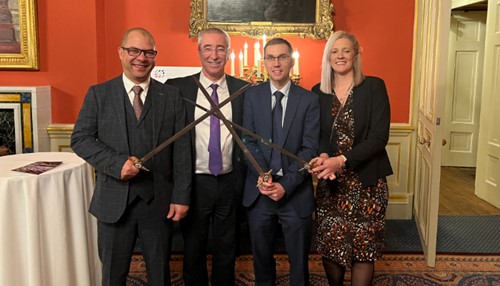 AGS Airports is celebrating after all its airports won a prestigious Sword of Honour from British Safety Council.
The latest accolade comes after the British Safety Council gave Aberdeen, Glasgow and Southampton Airports a Five Star Rating earlier this year.
In order to compete for the Sword of Honour, an organisation first had to achieve the maximum five stars in British Safety Council's health and safety management audit scheme.
As the award name suggests, each airport was presented with a ceremonial sword at the British Safety Council in London.
To be recognised by the British Safety Council Aberdeen, Glasgow and Southampton Airports demonstrated to an independent panel of experts that it has achieved excellence in its health and safety management throughout the business.
Derek Provan, Chief Executive of AGS Airports, said: "This is the first time all three of our airports have been recognised in the same year with Swords of Honours.
"The health and safety of staff and passengers at our airports is paramount and we thank the panel of experts for recognising our ongoing commitment to safety.
"AGS Airports is extremely proud of all our colleagues and business partners who made this hattrick of Sword of Honours possible."
Mark Beveridge, Operations Director at Aberdeen International Airport said: "As the gateway to the North East and one of the world's busiest heliports we take our health and safety responsibility very seriously. We are delighted to receive such high praise for our efforts and will be proudly displaying our second Sword of Honour.
"This recognition adds to the recent Airport of the Year award we received at the Scottish Transport Awards and is a testament to the commitment, expertise and professionalism of the brilliant team we have here."
Ronald Leitch, Operations Director at Glasgow Airport said: "We are extremely proud to receive what is now our fourth sword of honour.
"The management of the health, safety and wellbeing for our staff and customers is absolutely critical to our operations here at Glasgow Airport.
"We are honoured that our efforts have been recognised once again by the British Safety Council in the form of this prestigious award."
Steve Szalay, Operations Director at Southampton Airport said: "This is Southampton Airport's first Sword of Honour and we are thrilled to receive such a high honour along with our full five stars in the British Safety Council audit.
"We place a high priority on health and safety which is important to everyone who engages with Southampton Airport. Our new Sword of Honour highlights our systems for managing risks to our business are some of the best in the country."
Peter McGettrick, Chairman of the British Safety Council, said: "On behalf of the board of trustees and staff of the British Safety Council I would like to congratulate AGS Airports on achieving the highest standards of health, safety and environmental management.
Achieving recognition of this sort takes real dedication and absolute professionalism. We are proud to support your organisation in its achievement and delighted we can contribute to your ongoing success."