Bonjour Paris, the charming French capital city is home to famous buildings, boutique shops, luxury hotels and gourmet restaurants – it's impossible not to fall in love.
There's more to Paris than the big tourist sights, but with tourist sights like these, there's no harm being an unashamed tourist for the day. Join the queues for the Eiffel Tower and be rewarded by one of Europe's most iconic views. From here, you can plot your journey around Paris's must-sees – the River Seine, the Champs-Élysées, Notre Dame, the Louvre, the Sacré Coeur, Versailles... to name a few.
Set aside the guidebook and explore. For every famous monument, there's a hidden gem known only to locals, and for every booked-out Michelin-starred restaurant, there's a romantic backstreet bistro that's perfect for two. To find the real Paris, trade the crowds of the Place de la Concorde for the calm cafés of the Place des Vosges, or the pavement artists of Montmartre for the art galleries of Belleville.
With Disneyland Paris' 30th anniversary continuing through to September this is the perfect year to visit. Ideal for kids and big kids too a trip to Disneyland has to be on everyone's list when visiting the capital. Go for the day or stay over the choice is yours. Be transported into a world that inspires the imagination, located a short train journey from Paris city centre.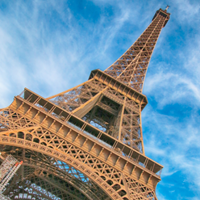 Flights to Paris depart from Southampton Airport up to 7 days a week with Eastern Airways in partnership with Air France. Flying in to Paris Orly (ORY), flights take an average of around 1 hour and 20 minutes. You can view full flight timetables here.
Need to book parking before your Paris Orly flight? Choose from our Short Stay, Priority or Meet and Greet options. For more information and to book now, visit our dedicated parking pages here.