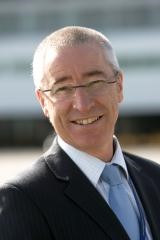 To mark Business Continuity Awareness Week here's a blog from AGS Airports Ltd.'s Group Head of Assurance.  
As well as being a former Senior Fire Officer, Gillies is a Specialist of the Institute of Risk Management, a member of the Business Continuity Institute and the Chair of the West of Scotland Regional Resilience Partnership Transport Function Group. 
Business Continuity Awareness Week
16-20 May 2022
All businesses are susceptible to things going wrong, some with graver consequences than others.
This can vary from the effects of a fire or flood, through to a temporary loss of power. The one constant though, is the need to ensure we are prepared for all eventualities; in other words, we are prepared for anything.
In the past year, the global pandemic has continued to demonstrate the need for robust business continuity planning measures which are deliverable in their simplicity and effective in their evolution. The aviation industry has been particularly hard hit with vast reduction on passenger numbers and unlikely to see pre 2019 passenger numbers until at least 2024.
Notwithstanding, it is not just the global pandemic that we need to deal with; across AGS Airports, we have suffered a number of events in recent years which, thankfully, we managed in such a way that they had no major long lasting consequences on our business.
We have witnessed many and somewhat varied events across our airports and thankfully, we are well known and respected for our continuing ability to step up to the challenge during periods of extreme operational challenges. These successes are mainly down to good pre-planning and our staff's engagement and willingness to go that extra mile.
Preparation and planning are, therefore, vital in ensuring that our business not only survives disruptive events, but that we are seen by our customers, stakeholders, business partners, staff and the wider media, to be in control and directing the restoration of normality.
This year, the theme of the BCI's Business Continuity Awareness Week is "Business Resilience in a Hybrid World". We have benefitted from our agile working over the period of the pandemic which has ensured that we can continue to support the businesses remotely.
Business Continuity Awareness Week is, therefore, a timely reminder of the importance of business continuity plans, procedures and processes, in ensuring that organisations can successfully bounce back from such eventualities.
Glasgow Airport is proud to be one of only a handful of airports globally, to be awarded the Business Continuity Management System ISO 22301. In 2022 we are working with Aberdeen and Southampton to use the ISO 22301 model to improve our resilience.
This demonstrates AGS Airports Limited's commitment to Business Continuity Management and their investment in resilience, by ensuring that we are all capable of dealing with any disruptive event which may present itself at any time.
Therefore, AGS Airports Limited are pleased to support Business Continuity Awareness week 2022. Remember, business continuity start with you.