We don't really want to mention the "C" word but Christmas is literally just around the corner – and that means making a start, or at least thinking about, the gifts you need to buy for your nearest and dearest.
The run-up to the festive season, of course, is hectic and what with all those office parties and nights out with friends to be fitted in, when will you find the time to go Christmas shopping? Well, it doesn't have to be a chore. In fact, you can cross some of those gifts off your list when you're jetting off on a pre-Christmas city break, skiing holiday or getting your fix of winter sun.
The answer is easy: World Duty Free at Southampton Airport.
You'll find plenty of festive inspiration in our fabulous World Duty Free store so you can stock up on gifts for your family and friends – and why not treat yourself while you're at it? You certainly deserve it!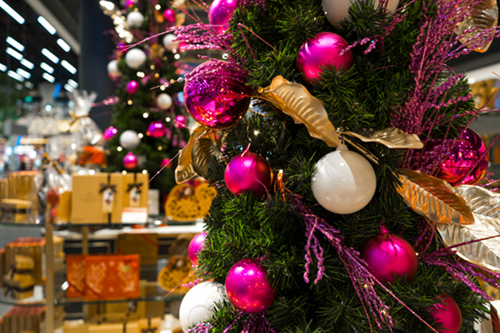 For the winter sports fan in your life …
You'll find some cracking ski goggles in World Duty Free. We rather like Oakley Flight Deck Goggles which cost £145.80 in the airport.
There's also the rather cool Bloc Fifty Five Ski Goggles which are a real bargain at £70.80 – both will protect your eyes from the elements and keep them safe on the slopes.
Gift, set & match
We absolutely love this Benefit Gorgeous Travels Fast Limited Edition three-piece holiday set – not only is it fun, it has all your favourites on board. At just £29, it's the brand's popular matte bronzer plus travel-friendly sizes of its Full-Blast volumizing mascara. The travel-inspired tin is fabulous!
How about Clarins Extra-Firming Daily Collection? There's Extra-Firming Day Cream and free travel size Extra-Firming Night Cream and Extra-Firming Mask products – all inside a pretty make-up bag. We love this and at £50.75, it's an absolute bargain.
Another brilliant gift set for the lady in our life is the amazing Molton Brown Discovery Stocking Filler Collection.
It comes in a gorgeous limited-edition Art Deco-inspired gift box – who wouldn't want to open this exquisite bath and shower gel collection featuring 10 of Molton Brown's most enduring fragrances on Christmas morning?
At just £33, it's an absolute bargain and the perfect gift for a friend or loved one.
Heaven scent …
There are loads to choose from in World Duty Free at Southampton Airport, including all your favourites – and who doesn't appreciate their favourite scent when it's beautifully wrapped up and placed under the Christmas tree?
For Him
Everyone has their favourite but if in doubt you can't go wrong with the perennial Jean Paul Gaultier.
His Le Beau de Toilette 125ml is a symbol of masculinity built around tonka bean, coconut wood and bergamot – all in a sexy, slender bottle and priced at just £58.55.
There's also Issey Miyake Wood & Wood Eau De Parfum 50ml – a strong, intense experience featuring cedarwood and sandalwood offset by the fresh tang of grapefruit and the perfect gift for the man in your life at just £65.10.
For Her
With hints of vanilla, bergamot and pear, and a bottle featuring feminine curves and a flower necklace, La Belle Eau de Parfum 100ml from Jean Paul Gaultier costs £77.90 and is guaranteed to put a smile on the face of your mum, sister, wife, girlfriend or friend this Christmas.
Reserve & Collect:
Don't forget that you can use our great Reserve & Collect and Shop & Collect services. This means that if you want to purchase something from World Duty Free and it's not in stock at Southampton Airport, you can pre-order it and collect it when you're at the airport.
It's a great service!
Find out more at worlddutyfree.com
Please note that prices are subject to change and subject to stock availability.