We work in partnership with organisations representing disabled persons and persons with reduced mobility to continually review and improve our service provision. Working closely with a number of disability organisations has greatly helped us improve the experience we provide all our passengers and more recently focusing on people travelling with hidden disabilities.
Organisations we have been working with include:-
Alzheimer's Society
Dementia Friends
National Autism Society and Autism Hampshire
Stomawise
Action on Hearing Loss
Guide Dogs for the Blind
Crohns & Colitis UK
Terptree
Working with these organisations, during 2018 we have continued to develop our teams through enhancing their skills to improve the assistance they provide our passengers. Action on Hearing Loss, Stomawise and Autism Hampshire have delivered in-depth awareness training and provided us with guidance on opportunities to further improve our customer experience.
In 2019, working with Supporting Minds Consultancy we have launched the Southampton Airport CARE training for our staff. This training focuses specifically on mental health well-being, improving staff awareness and providing them with confidence to assist passengers in the best possible way.

Stomawise held an Ostomy event at Southampton Airport in July 2018 with the aim of improving passenger confidence for air travel. Further information is available in our advice and tips booklet.

We understand that passengers like to prepare for their journey through the airport. Our advice and tips booklet which we developed in partnership with disability organisations is a positive step forward with helping guide passengers through the process of travelling to and from Southampton Airport.

It's been a pleasure to welcome Let's Communicate Hard of Hearing Club who visited us in March 2019 to find out about our Special Assistance service. A very big thank you to them for the useful feedback and suggestions they gave on where we can improve our accessibility.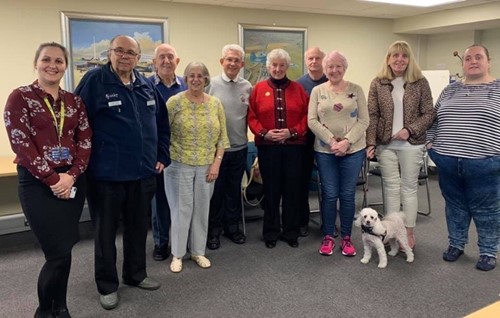 Having worked previously with Action on Hearing Loss to introduce additional hearing loops in key locations throughout our terminal, they are now helping us introduce equipment for group sessions and the familiarisation visits we provide.
Following the Dementia Friends audit of our services and facilities, we are working through the recommendations we received and are making improvements to ensure we are a dementia friendly airport. Southampton Airport have signed up to become a Dementia Friend and have committing to 3 dementia-friendly actions. These are:-
Hold a regular accessibility forum with disability organisations
Carrying out an environmental audit of the airport by people affected by dementia
Provide our teams with more in-depth training to enhance understanding of dementia
In addition to our regular Consultative Committee Meeting, we are also introducing a regular forum with local and national disability organisations to work together on developing our services.
The introduction of our 'helping hands' lanyards, a quieter route through the airport and signage improvements (including new tactile signs) have also contributed to improving the experience for passengers travelling with hidden disabilities.
During 2019, we are working on a number of improvements and the partnerships we have developed are invaluable with helping us enhance the services we provide all our passengers.