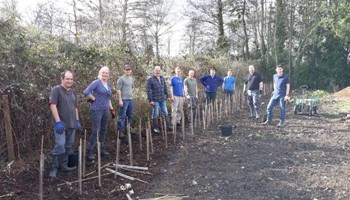 This month, members of staff at Southampton Airport and their supplier teams rolled up their sleeves to support Youth Options.
A Hampshire-based charity, Youth Options seeks to empower young people to grow in confidence, improve their wellbeing, and manage the stresses and anxiety of modern life by helping them engage with nature.
On 9th February, the airport team spent a busy morning clearing brambles and planting a new hedgerow and around 200 tree saplings at the charity's new Bishopstoke Road Outdoor Learning Centre.
This is the airport's latest support for the charity, having helped renovate a polytunnel at the Outdoor Learning Centre in the summer.
The new planting and polytunnel will open up new and valuable opportunities for local young people to connect with nature and improve their mental health.
Carly Redwood, Fundraising and Communications Manager at Youth Options, stated:
"We could not be more grateful to Southampton Airport for volunteering at our Outdoor Learning Centre in Eastleigh. We always look forward to them joining the team for the day, and the centre wouldn't look the same without them.
"We can't wait to reap the benefits of the trees they have planted, and offer horticulture programmes to children and young people in our newly erected Polytunnel which they helped to make possible."
Mike Weeks, project manager at Southampton Airport, said:
"Southampton Airport is proud to be long-term volunteer partner and supporter of Youth Options. The charity does amazing work for young people across Eastleigh and Southampton, helping them to build confidence and improve their mental health and wellbeing through engagement with nature.
"As a regional airport, we are deeply committed to the communities we serve and we're happy to roll up our sleeves to make a difference for a great cause."